"You Have Become My Conscience"
Article from the AICC(WA) Woman of Achievement Annual Luncheon in memory of Dr Patricia V
Kailis AM OBE, held at EY on Tuesday 15 November 2022, and featuring Dr Cathy Foley AO PSM,
Australia's Chief Scientist as keynote speaker. Dr Foley addressed the topic "Looking beneath the
surface – finding leadership within".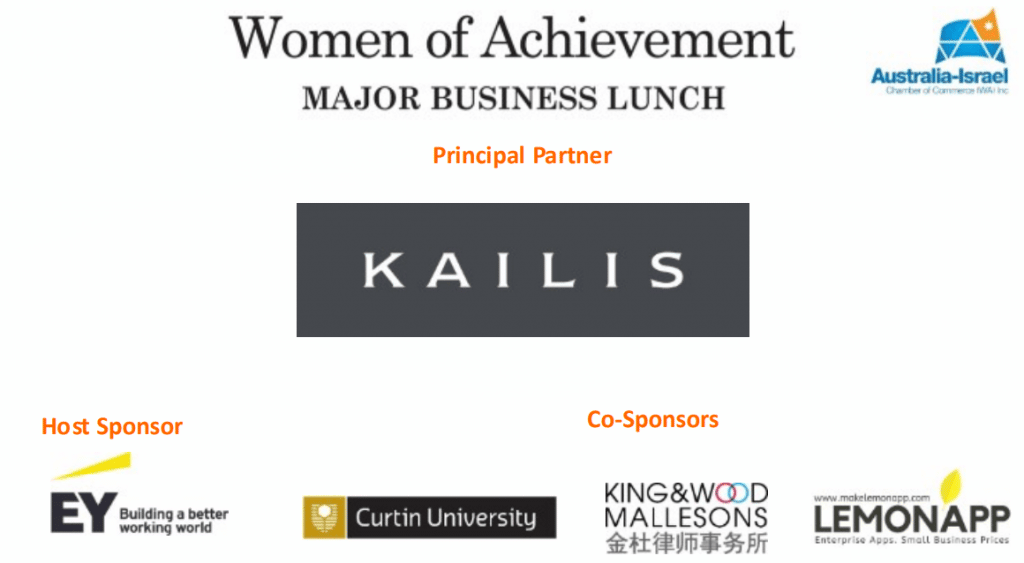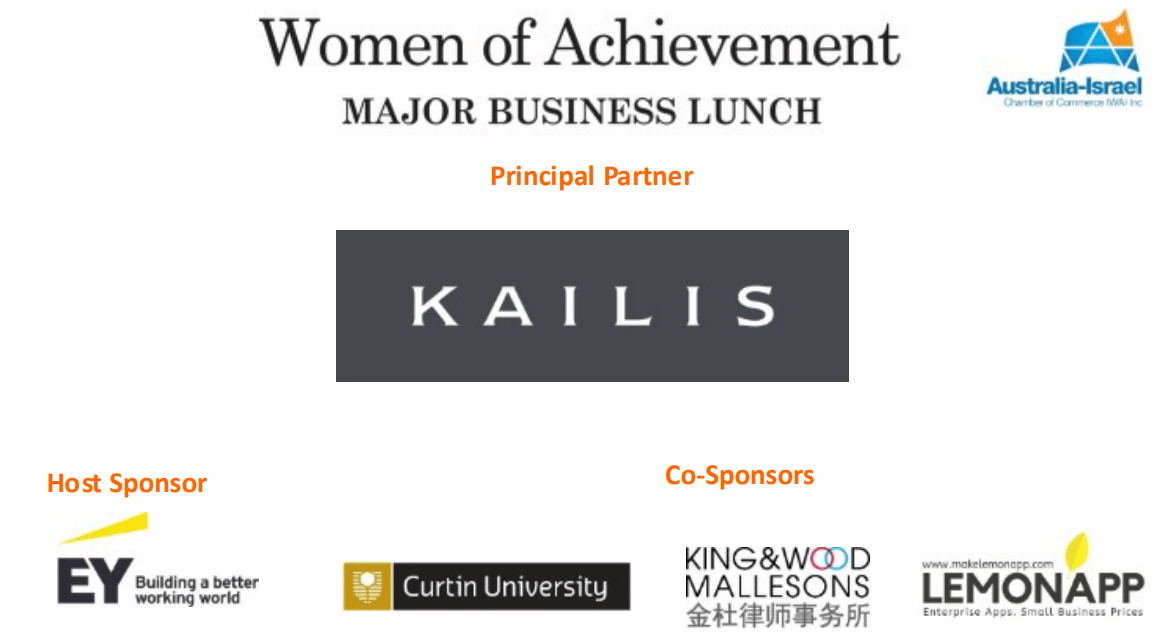 The legacy of Dr Patricia Kailis, as continued by her daughters and presented by Dr Maria Kailis,
Director MG Kailis Group, remains an inspiration to Perth business and the broader community
beyond. Inaugurated in her honour, the AICC(WA) annual Women of Achievement lunch has now
been running for a decade. The event grows in stature each year, and remains a highlight of the
AICC(WA) business networking program.

Professor Harlene Hayne, Vice-Chancellor Curtin University reflected on the mentorship of Dr Patricia
Kailis as a role model for career development without sacrificing commitments to family and
involvement in community. Pioneering full and equal access to opportunity, she described Dr Kailis'
extraordinary leadership, representation, and dedicated commitment to diversity, values that are now
so prevalent within corporate strategy, but were not always embraced.

Australia's Chief Scientist, Dr Cathy Foley, treated the AICC(WA) to an erudite and powerful
presentation that drew on her current role, some of the emerging opportunities for Australian
scientific research and personal reflections on her pathway to leadership.

Incorporating diversity as a big component of her agenda, she also paid tribute to Dr Kailis' advances
in the fields of family, health and disease research, and developing a globally renowned pearl industry.
She drew attention to the use of innovation by Dr Kailis to resolve production problems in the pearl
industry by applying sterile medical techniques to manufacturing.

Dr Foley commenced her career in the male dominated physics research sector, and shared insights
into the lifestyle adjustments and approaches she experienced when seeking career advancement.
Early into the tenure of her current role she was called to task by a group of early to-mid-career
researchers for describing changes women could undertake to enhance their career development,
without placing sufficient emphasis on the accompanying structural and cultural changes required. Dr
Foley said she had learned the importance of being precise and careful with her messaging about the
need for workplaces to support women's career aspirations without having to enforce lifestyle
changes. She described the ways in which leaders operate and establish business culture as critical to
success, and said the new generation of early to mid-career researchers "had become my
conscience".

Scientific Opportunity

Sharing observations of particular relevance to Western Australia, Dr Foley discussed the
diversification of the resources market into critical minerals and rare earths. The future of sustainable
energy generation, batteries, magnets, electric vehicles, and other emerging industries suggests that
mining may be set for a future boom, but not based on traditional commodities. She noted that this
new economic opportunity cannot be separated from the drive towards sustainability, both through
production (mining techniques and processes) and extending to energy efficient sources and products.
Dr Foley remarked "we cannot solve one problem to create another". However, she reflected
optimism in the ability of scientific discovery to revolutionise primary resource base production across
Australia.

Dr Foley further shared her insights on the immense capability of quantum technology, urging
Australia to maintain pace with the global quantum scientific revolution. She predicted that quantum
technology and encryption would be infused into many aspects of our lives, from medical intervention
through to energy production. Australia leads the world in quantum research, and now has the
opportunity to play a leading role in commercialisation and adoption of new quantum technologies.

Key Scientific and Career Insights

Reflecting that she never ceases to be amazed by the power of science, Dr Foley discussed the ripple
effect that scientific discovery can have on world-changing applications. She remarked "there is a
sense of awe when you discover something new." Leaving some key messages for her audience Dr
Foley shared many observations;
Science allows us to look beneath the surface and make new discoveries that can lead to
solutions to big challenges.

All of us can be involved, and indeed all Australians need to be involved to help overcome the
scale of economic and developmental challenges that sit before us.

As the impacts of climate change are felt, sustainability is more than ever a shared goal.

Australia's task is not just to become more efficient or better at what we do, but to adopt new
ways of working to develop new technologies and industries.

To make the most of the value of research we have to be comfortable with unpredictability.

We need to be adventurous with our choices and incorporate a broad set of ideas and
perspectives. Gender diversity and all forms of diversity contribute to this.

During an engaging Q&A session facilitated by Dr Lyn Beazley, AO FAA FTSE FACE CIE (Aust), AICC(WA)
board member and former WA Chief Scientist, issues of funding, youth engagement, STEM education,
access to research and disability engagement were raised. Of particular note was Dr Foley's
observation that Australia currently spends 1.79% of GDP on research, well below the OECD average.
Albeit in times of economic constraint, there is a Government aspiration to lift this to 3%. Dr Foley
spoke about the importance of lifting business expenditure on R&D.
Concluding her address, Dr Foley acknowledged the presence of a room full of leaders and reiterated
that gender diversity manifests in many ways. She remarked "I accept the need to talk about gender
diversity, but wish I didn't have to".

The AICC(WA) extends its appreciation to event Host Ms Fiona Drummond, Managing Partner Western
Region and Assurance Partner, EY, and Professor Harlene Hayne, Vice-Chancellor Curtin University.
Also, to Ms Dinali David, Managing Director Lemon App, who shared the value of her experience
resulting from AICC(WA) business networking, and Ms Antonella Pacitti, Partner, King & Wood
Mallesons who proposed a vote of thanks, both as event co-sponsors. The wonderful opportunity to
host an event of this calibre, including the important participation of students and young business
leaders, would not be possible without their valuable corporate support.

About Dr Cathy Foley AO PSM

As a young child attending Catholic school, Cathy Foley knew of five potential careers she could follow
– a hairdresser, a secretary, a nurse, a schoolteacher or a nun. But although many of them were
helping professions, for her, none of them were going to help her change the world. Armed with a
PhD in physics, Dr Foley forged her own path from student to research leader, developing the
LANDTEM™ sensor system used to locate valuable deposits of minerals deep underground, such as
nickel sulphide, silver and gold. She managed to do this while also having children and being an
engaged and impactful leader within the broader research community. Today, Dr Foley Australia's
Chief Scientist, and a champion for Australia's place in the rapidly unfolding quantum technologies
revolution. . In every new situation, her mantra is the same: science is the key to unlocking our future.