Article from the AICC(WA)'s Annual Geo Political Event with Mr Gregory R. Copley AM, President
ISSA, The International Strategic Studies Association, Washington DC, USA. This event was
sponsored and hosted by Herbert Smith Freehills on 23 October 2019.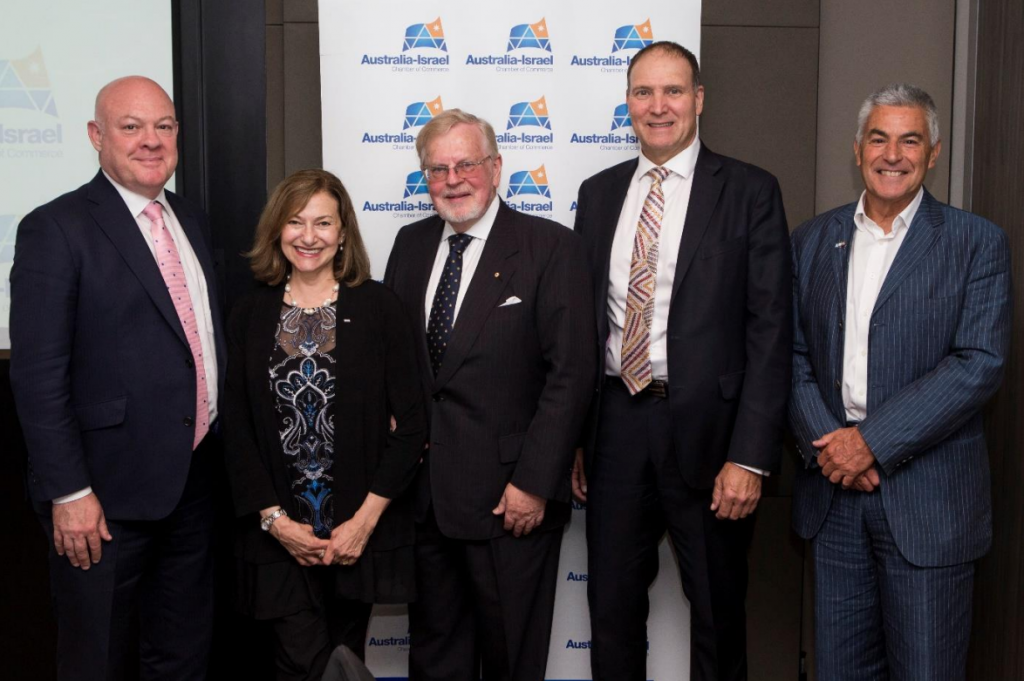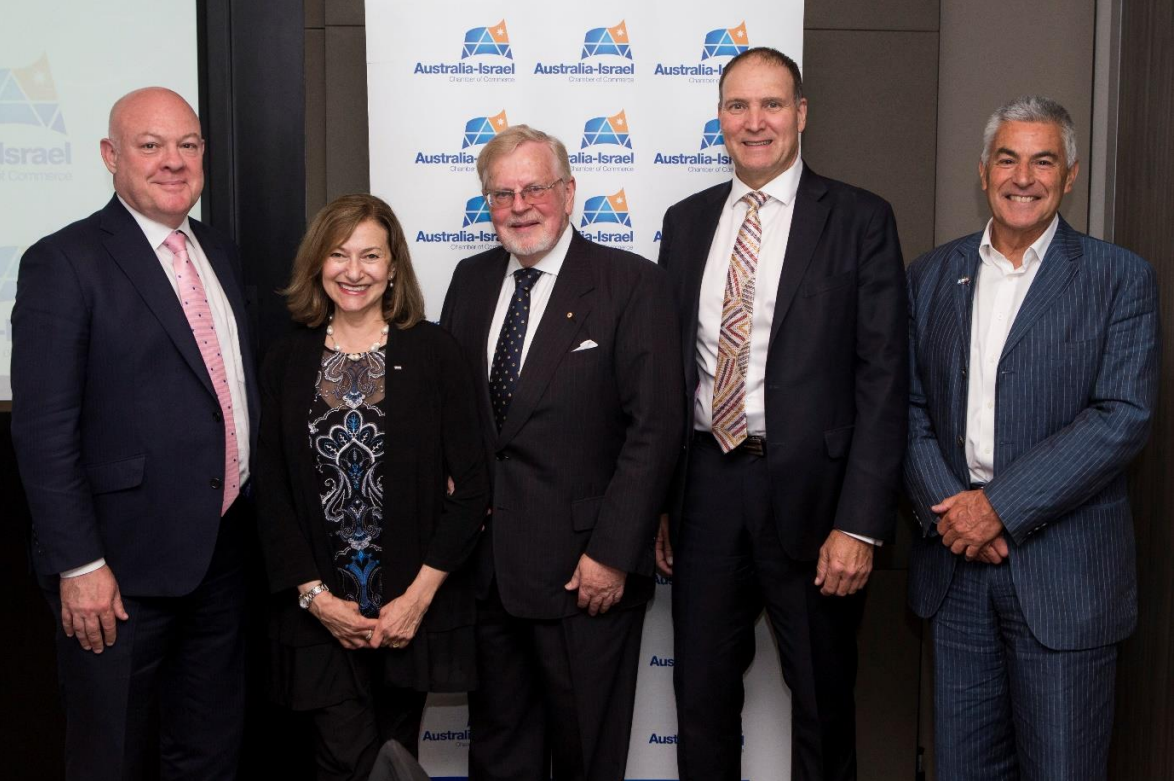 The now familiar partnership between the AICC(WA) and HSF to host Mr Gregory Copley met and
exceeded expectations for the 2019 oration. Mr Tony Joyner, Managing Partner HSF emphasised the
profound impact and strategic insight that comes from this event, a rare opportunity to hear from a
leading international commentator and former Western Australian.

Mr John Cluer, Chief Executive AICC(WA) provided introductory comments that affirmed the
longstanding interest of the Chamber in the geopolitical relationship of China to both Australia and
Israel. In particular the AICC have framed tri-partisan trade opportunities that bring together the
potential of Israel as an innovator, China as a manufacturer, and Australia as a service economy.
Australia, China and Israel have a lot to offer to each other, and a huge potential still awaits to be
fully tapped.
"It is notable that the strategic importance of China's economic development to both Israel
and Australia has dramatically increased in recent years.

Australia's trade relationship with China is growing ever closer. Australia is China's sixth
largest trading partner. We are China's fifth biggest supplier of imports and its tenth biggest
customer for exports. The latest trade report shows that China was the destination for a
record 40% of Australia's exports in June, double than what it was ten years ago.

So too, relations between China and Israel have expanded rapidly in numerous areas,
including diplomacy, trade, investment, construction, educational partnerships, scientific
cooperation, and tourism. China's primary interests in Israel are advanced technology and
Israel's location as part of the silk road trade route.

It was recently reported that between January and August of 2019, some 350,000 passengers
flew between Tel Aviv and China, an increase of 24% on the previous year. For Israel, China
now represents its largest trading partner in Asia and third biggest in the world, with $US13
billion of bilateral trade.

It is also worth noting that, on the back of Israel's signing of a Free Trade Agreement with
Australia last year, that Israel is also close to concluding free trade negotiations with China."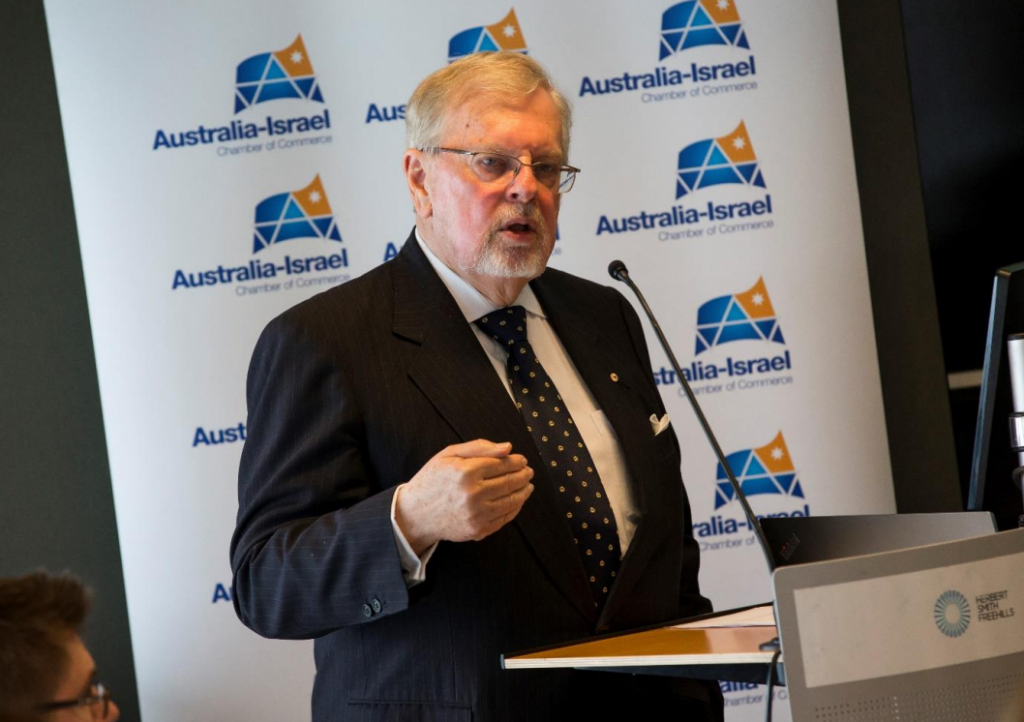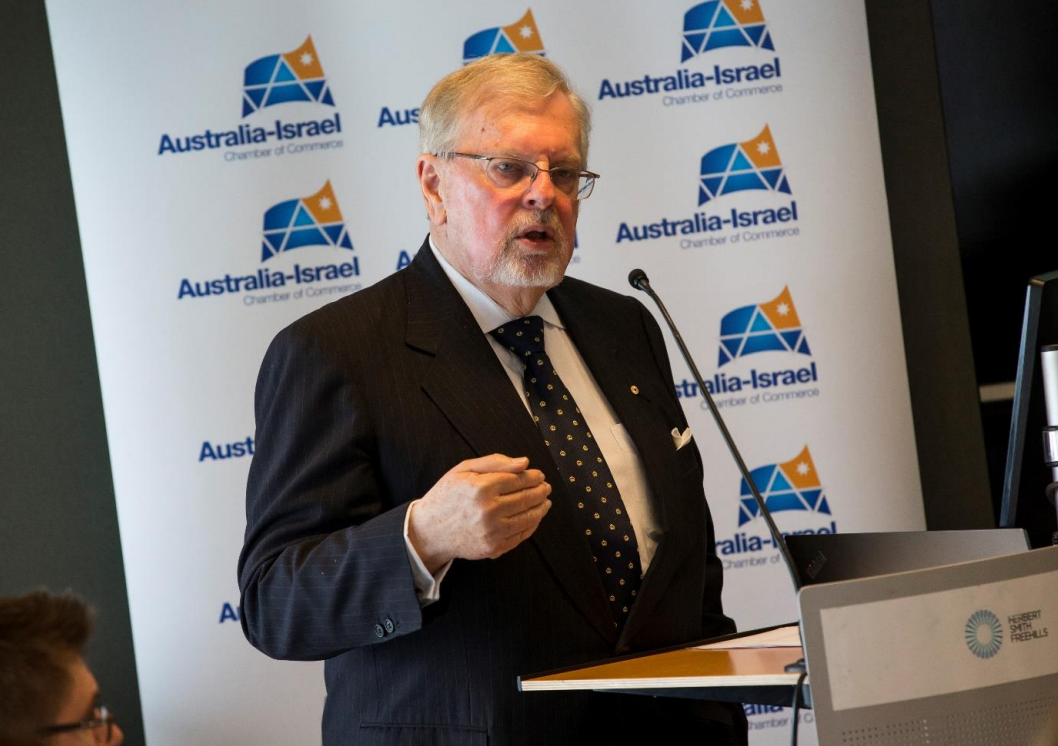 Structuring his topic on the need to strengthen Australia's sovereign identity, Mr Copley placed
historic, political and economic context around Australia's partnership and confrontation with the
People's Republic of China (PRC). He made a distinction between the PRC, a one-party state run by
the Communist Party of China (the CPC), and the historical nation-state of China. In framing the
debate he posed the question "Why should any nation-state or society be responsible for another?"
"Prime Minister Morrison has come down strenuously in favour of Australia finally asserting
its sovereignty. He made it clear that Australia cannot, nor should not resile from
engagement in and with the broader human tapestry, including the People's Republic of
China. And he has discussed increasing Australian Defence spending from its present two
percent of GDP to three percent. That has been a direct response to increasing belligerence
from the PRC toward the West, but of course the Prime Minister's plans for increased
spending also depend on the hope that Australia's GDP rises and that the strength of our
dollar also rises."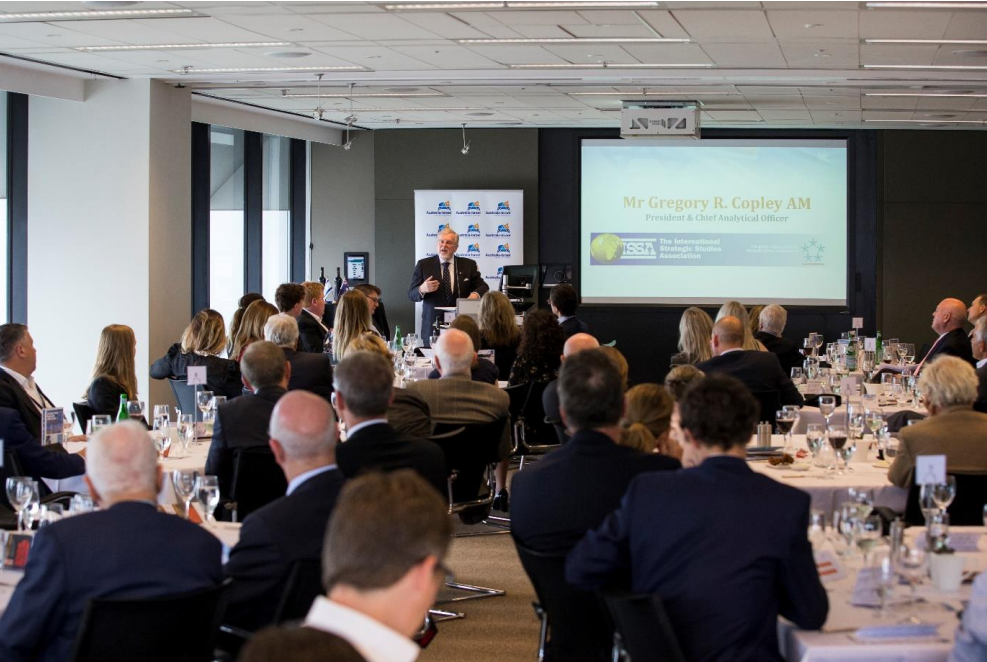 With a realistic and pragmatic approach, Mr Copley suggested that strategically, there is no deep
civilisational affinity between Australia and the PRC, while, to the contrary, there is a geopolitical
and ideological rivalry. The global situation is similarly structured, with PRC hegemony posing the
dual elements of economic dependency and political challenge to many economies, including the
world's largest, and those that are emerging.
"Geopolitics is that attachment of human beings to geography. Geography is essential to our
survival, and those who argue that the nation-state no longer matters miss the point that,
absent our ability to control our geography — its space, its resources, its food and water —
we cannot survive in control our own destiny."
Global trade has shifted back to the primary agricultural elements. The PRC's investment and
development has been driven by shoring up its supply chain. Whilst Australia is a part of this, our
exports only deliver a small component of the consumption demand from China.
"Today, the CPC has become profoundly nationalistic, of necessity. It has some 1.4-billion
mouths to feed, and it wishes that it had less. It has almost 20 percent (18.4 percent) of the
world's population, and yet only seven percent of its water, and of that water some 25
percent, at least, is polluted, along with much of its agricultural water table."
The slowing of growth, cited by Mr Copley (in accordance with the PRC's own admission) as being at
its lowest level for 27 years, has been felt by Australia. Inherent within the experience is also an
opportunity for Australia to look beyond primary production.
The PRC's undisputed "economic miracle" is no longer responsible for delivering the
Australian dream. Indeed, by turning Australia into a giant mine, we transformed Australia
— for Beijing's gold — into a developing state, abandoning our highly innovative industrial
and manufacturing base for the easy money of "dig and sell". We added no value; not to the
minerals, neither to ourselves."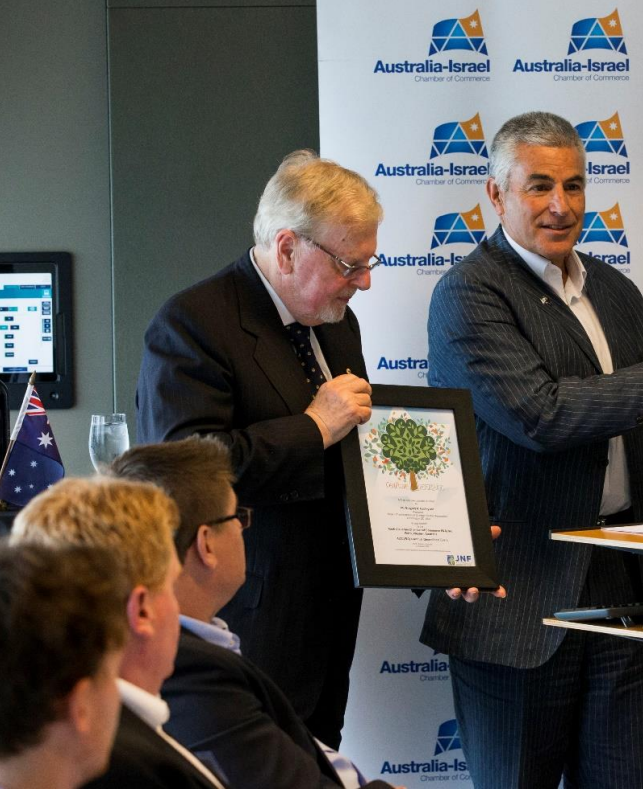 Mr Copley's analysis progressed to discuss the political objectives and strategies of Beijing, and the
fundamental global shifts that are impacting these goals. Rising prosperity in China has increased
domestic expectations, and coupled with environmental, technology and military influences, the
external issues that reflect on China's economy are becoming increasingly more complex. Some of
the scenarios proffered are no less pessimistic than they are credible. Coupled with power shifts in
the Middle East, particularly the diminution of US and Western influence in the region, Australia
needs to revisit its diplomatic, defensive, technological and economic capabilities.
"Australians cannot avoid asking is to what extent Australia can and must shape its own
destiny through independent diplomacy, economic resilience and self-sufficiency, and a
flexible and capable defence capability. In the emerging global transformation, the new
strategic power lies in what we can call ''information dominance" capabilities, including
cyber and political warfare and independently-sustained advanced weapons. The once-clear
advantage in the power balance of population numbers and overall economic size count for
less than innovation and fluid resilience.

None of this implies that Australia should abandon its trading position with the PRC, but the
strength of that trading position is entirely dependent on Australia's ability to work with its
allies in constraining Beijing from strategic expansion into the Central and South Pacific and
the Indian Ocean.

With or without Australia's input of resources and food, the PRC may collapse economically
before it reaches that point. Such a collapse would be accompanied by great internal
upheaval and possible regional adventurism by Beijing.

In the meantime, Australia's own population management and security, linked to its
immigration policies, are critical to Australian security.

So could Beijing target Australia as the next continent, after Africa, to dominate and
overwhelm? Indeed, has that process already begun? Do we already exhibit a form of
collective "Stockholm Syndrome" in which we plead the case of our captors?

In all of this, the only clear message is that the PRC cannot "save" Australia's future,
economically or otherwise. Neither can the US, for that matter. Both are important factors in
Australia's security and wealth, but the time has come for Australia to achieve sufficient
maturity to truly become the sovereign state we imagine it to be."
Mr Copley's spellbound audience engaged in Q&A further discussing the Israel-China economic
relationship. The US departure from much of its presence and influence in the Middle East places
Israel and the entire Middle East in a very delicate position. Mr Copley suggested that if the US did
respond to regional aggression it may not be in the form of direct military conflict.

In a philosophical response, Mr Copley demonstrated examples of the breakdown of the political
spectrum, where left and right ideologies are no longer as pronounced or collectively defined. The
consciousness of Australia asserting political sovereignty was a key factor in Prime Minister Scott
Morrison's electoral victory, and a key theme of his leadership to date. The national and political
identity of Australia would need to rapidly and further evolve, with clear objectives, values and
ideals for Australia to confront the growing geopolitical divisions which Mr Copley outlined.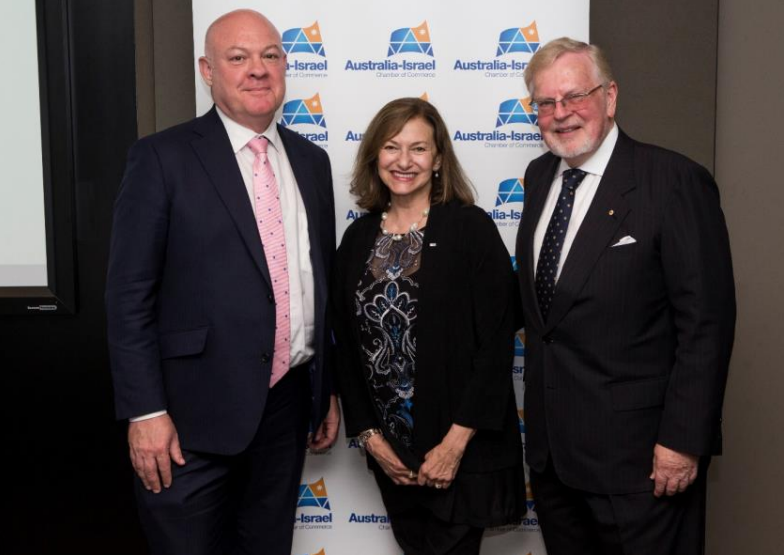 About Gregory R. Copley AM
Gregory R. Copley AM, is President, ISSA – The International Strategic Studies Association,
Washington DC, USA
Western Australian Gregory Copley, an advisor to governments around the world for the past 45
years, and the author or co-author of 35 books, including:
"Sovereignty in the 21st Century and the Crisis for Identity, Cultures, Nation-States, and Civilizations";
"Australia 2050; Such a Full Sea (Australia's Options in a Changing Indian Ocean Region)";
"UnCivilization: Urban Geopolitics in a time of Chaos"; and
"The Art of Victory"
In 2016, he also launched the ISSA Zahedi Center for the Study of Monarchy, Traditional Governance,
and Sovereignty, while continuing to oversee several other regional intelligence forums.

Greg returns home from his Washington, DC, base each year to present the AICC(WA)'s annual
geopolitical event. His talk to the AICC(WA) a decade ago "Can Australia Survive the Next 50 Years?"
is still being talked about. So, too, is his 2017 talk, which accurately forecast how US Pres. Trump
would bring North Korea into negotiations and precipitate major new opportunities for security in
the Indo- Pacific.